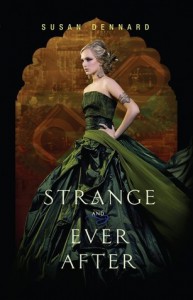 Well I finish the book. But not without tears. Yes, the author made me cry.
Plot: The plot follows where the last book left off so if you have not read this series go and read it. It is awesome. Eleanor is dealing with what her brother started. It gets even more dangerous and with every chapter, Eleanor loses more of what she loves. Throughout this story Eleanor, is doing her best to save everyone. With much drama occurring in-between, its hard for Eleanor to trust anyone. The plot moves at a fast pace. There is much going on so the reader doesn't ever feel bored or lost.
Action/Places: One thing I really enjoyed in this story is Eleanor's travels. She goes to places and of course they are always on the run from someone or something. The description of the places as well as Eleanor's epic battles totally captures me in the book.
Ending: I don't want to say much to ruin anything but gosh the author made me cry!! I just could not believe it. So much struggle with emotions and the loss hit me hard. I wanted to fight for Eleanor. It just wasn't fair. But I understood. *TEARS*
Strange and Ever After gives the reader an epic ending! Flowing with much action and drama, the story carries the reader through the last pages heartbroken yet happy.